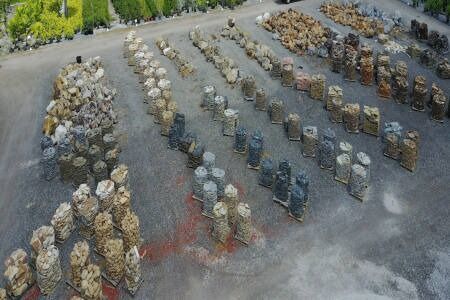 Decorative rocks are a great way to add depth and dimension to your landscape. They are one of those basic elements of a garden that tend to be overlooked. They aren't as "fancy" as thinks like statuaries, or fountains, so people tend to forget about them when planning their own garden, until they realize there are huge gaps that need to be filled with something!
There are many types of decorative rocks available and they can be used for a variety of different purposes, like filling space between plants and borders, or creating a safe walking space that guides visitors firmly away from flowers and shrubs.
Being able to buy your rocks in bulk can also be helpful, especially when you have large areas to cover. At A One Stop Garden Shop, we have a variety of bulk decorative rocks to choose from. Stop by our garden center in Loxahatchee Groves for your next landscaping project!
Types of Decorative Rocks
One of the great things about decorative rocks is the number of varieties that you can find! For any color scheme or theme, there is a decorative rock to suit your needs. If you want something bright and eye-catching, try Crimson Rocks, Timberlite or Red Lava Rocks. If you're looking for something a bit more elegant and sophisticated, however, you might enjoy a more neutral decorative rock like White Marble, River Rocks or White Chattahoochee Rocks.
Our garden center is one of the largest and most accommodating spaces in Palm Beach County. We have a lot of options when it comes to landscaping rocks and many of our rocks are sold in bulk. Some of the most popular types of decorative rocks we sell are:
Brown pea rocks
Chattahoochee rocks
Medium river rocks
Mexican beach pebbles
White egg rocks
Timberlite rocks
White marble rocks
Large river rocks
Brown egg rocks
Smooth river rocks
Palmetto green rocks
Mexican beach pebbles
Black slate rocks
The type of decorative rocks you choose can help enhance the appearance of your garden without taking attention away from the blooms or greenspace themselves. There is truly a decorative rock to suit absolutely anyone's needs and you can rest assured that you'll find the best selection of decorative rocks at A One Stop Garden Shop.
How to Prep Your Lawn for Decorative Rocks?
Are you in the midst of designing your garden? While some people tend to dive right into gardening and don't give the overall look of their garden much forethought, others are a bit more meticulous. These individuals are likely to have a particular vision in mind regarding the overall layout and look of their garden – and to achieve it, they might find themselves in need of a rather large amount of decorative rocks.
Prepping your lawn or garden for decorative rocks can be a bit time consuming, but is definitely worth the time and effort. There is nothing worse that seeing weeds sprout in between the rocks and thus ruining the beautiful landscape you worked so hard to create. By taking the time to remove weeds and grass from the areas you want to lay the rocks down and using a lining as a buffer between the soil and the rocks, you can prevent weeds and grass from growing and keep your landscape looking neat and professionally done.
We Deliver Bulk Rocks In Palm Beach County
In addition to being highly variable in appearance, our decorative rocks are available in huge numbers! If your project is particularly large, you might enjoy purchasing them in bulk. That's a service that A One Stop Garden Shop is proud to offer! We provide our clients with quality decorative rocks in whatever amount they need – and we're even happy to deliver them, if necessary, so that you don't have to leave your home and try to fit them all in your vehicle. We're happy to go the extra mile to ensure that you are satisfied with your order.
A One Stop Garden Shop is a family owned and operated business that has been in the industry for nearly ten years. Our professionals understand how to help create the perfect garden for your needs – and we always tailor our solutions and advice to fit your specific situation.
If you are in need of decorating help with your garden, call us at (561) 784-7222 or visit our garden center today and let us know what we can do to help!