Published: December 18, 2019, 5:05pm | Modified: December 19, 2019, 12:14pm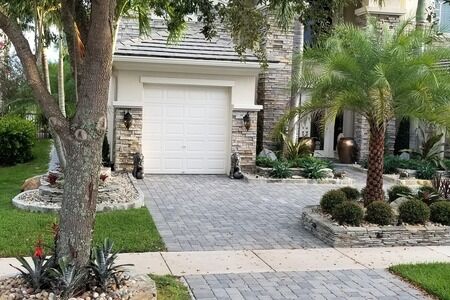 Using decorative rocks can transform your landscape from ordinary to extraordinary! While many of us can appreciate a beautifully designed landscape, not everyone has the flair for design or knows how to use items like decorative rocks to take their property to the next level.
The first thing you want to consider is the type of design you are looking to implement. Do you want something modern or traditional? Do you enjoy tropical landscapes, or Japanese gardens? What climate, or "zone" do you live in? Do you want something low maintenance? Are you willing to devote the time needed to keep your garden healthy and thriving?
While your choice of decorative rocks isn't going to answer all of these questions for you, it will help you better understand what direction to go in.
The type of landscape you want will also help you to choose the right decorative rocks to fit in with your design. Keep in mind that whatever you decide on, it should be something you can enjoy for years to come. Rocks are not easy to move, so once you've decided on placement, you will more than likely not want to disturb them!
Here are some of our favorite ways to use decorative rocks in landscaping.
Replace Mulch with Rocks
While mulch is typically the go-to for plant and flower beds, rocks can be a better solution for larger shrubs and trees. Because rocks don't break down over time, they keep soil dry and heat in. Rocks are an especially great option for succulent gardens as you want to keep moisture levels low.
Decorative rocks are also a lower cost to maintain than mulch. With mulch, you often have to replace it (or at least add to it) annually because it is an organic compound and will eventually break down. Rocks keep things simple. You don't have to worry about replacing them and they also keep weeds at bay longer.
Mulch can also attract bugs and pests, including termites. If you've had issues with termites in the past, decorative rock can be a much better option for covering exposed soil. Decorative rocks can create a very elegant and upscale look to your landscape.
One of our favorite landscaping ideas for decorative rocks is using them in seating areas. They make a great base or border for benches, tables and chairs.
Build a Rock Border Around Your Garden
Any garden or landscape needs a defined border. Whether it's a walkway, hidden path or edging around your plants, creating sections in your landscape makes it look more professional and put together. Take time to think out your design. What color flowers and bushes will you have? How big of a pathway are you looking to lay down. Sketch your ideas. Draw it out. Cut out pictures from magazines that you can use as a reference. This will help you when thinking about the size of rocks and rock shapes you want to use. Pictures, especially, can be a great reference when you are ready to purchase your rocks.
Create a Rock Pathway
I love walkways. They can provide such a quaint and magical element to any garden or yard space. It can be a path from a doorway to a side walk, or a walkway to an outdoor swing or sitting area. Having examples to refer to when working with a landscaper or local supply store can help tremendously in the process.
There are several types of decorative rocks that works for a pathway, the most common being gravel or river rocks. However, you can use any size rocks to create a pathway. Some of our favorites include slate, river rocks, Santorini premium white tiles, or even a mixture of large and small stones. There is really no limit to what you can do with a rock pathway – it's all about using your imagination.
A One Stop Garden shop has one of the largest selections of decorative rocks in Palm Beach County, Florida, and some of the best prices around. We love landscaping, which is why we think it's important to maintain a variety of options for our customers. As you will see by viewing our decorative rock gallery, we have rows and rows of rocks available, for every taste, style need and budget.
If there is a particular type of rock you are looking for, stop by our garden center in Loxahatchee Groves, or give us a call at 561-784-7222 today.