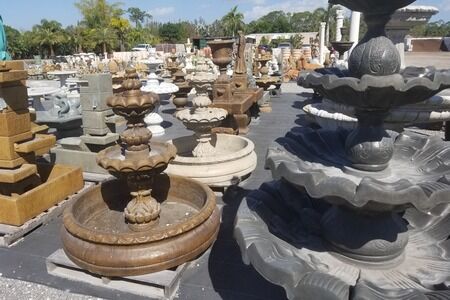 When most people think of a garden, they tend to picture specific kinds of flowers and trees. That's understandable, of course – both of those things are undeniably important when defining a garden. That doesn't mean that these are the only important aspects of a garden, however, and you might be surprised to find that there is actually quite a lot to look at beyond the flora. Perhaps you might be interested in a bit of garden statuary? Or, along the same vein, perhaps fountains and pottery would help make your garden the perfect getaway you've been searching for?
Some garden owners would prefer to keep their gardens as natural as possible. And that's fine! There is plenty you can do with landscaping to create a beautiful garden without the addition of things like pottery. When you are willing to consider adding these elements into your overall design, however, the possibilities regarding what, exactly, you can create really open up. Perhaps you'd like to craft a garden that serves as a quiet, peaceful reprieve from the outside world. Can you imagine how lovely the right fountain would be in that space?
Still other garden owners would like to create a space that is bursting with color. This is true from the flowers themselves all the way down to the containers within which they are held. To that end, pottery might be exactly what you're looking for to add that extra splash of color to an otherwise rather monotonous garden scheme. The possibilities are truly endless! Whether you are looking for a bohemian heaven or a lush greenspace filled with the sounds of water splashing softly in the distance, fountains and pottery are great options for your garden.
When you make the decision to invest in garden fountain and pottery, make sure that you are receiving high quality products! There is nothing worse than spending your time painstakingly picking out the perfect color scheme for your garden only to arrive home with broken pots (or pots that will break at the merest hit of a tap). Don't waste your time and set yourself up for disappointment! Instead, reach out to a professional team who understands how to see your "vision" and help you find the best, highest quality fountain and pottery pieces to achieve it.
At A One Stop Garden Shop, we understand that you might have a very particular idea regarding how you want your garden to look. Whatever that overall vision might be, we have the services and design options needed to help you achieve it. And with our locally-owned business, you can rest assured that you are buying the best lawn and garden services and products are the best prices available.
A One Stop Garden Shop has been in business for over a decade, and we are proud to offer our customers personal attention and garden solutions tailored to their specific needs.