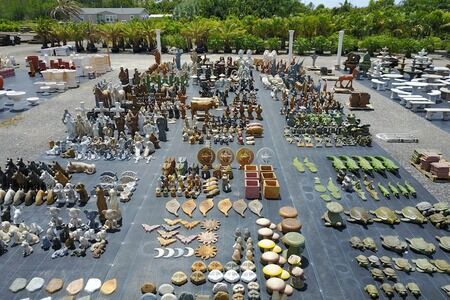 The idea of a "garden" has always held a somewhat whimsical quality. Hundreds of years ago, for example, it was thought that fairies might play throughout the bushes and other shrubbery, dancing from flower to flower and attracting the eye of curious humans. Other myths gave the blooms themselves a special sort of magic, able to cure even the worst of maladies. And still others pointed to the statuary in a garden as possessing a mystic power. Today, of course, we know that this is not the case – but that doesn't mean that gardens have become any less special in the hearts of their owners.
On the contrary, it is possible that gardens today are actually more important to their owners than ever before. The busy professional might find great joy in returning home to a beautiful and peaceful bit of nature, for example, while others find something a bit more majestic to best suit their needs. Regardless of the exact needs of the owner in question, the fact of the matter is that gardens – and, by extension, the statuary within them – are an important part of the lives of many. Besides the feelings a garden with beautiful statuary brings, it can also add aesethetic appeal to your home.
Are you interested in creating something truly special out of your garden? If so, look not only to blooms and bushes for inspiration! Statuary is an often-overlooked part of many gardens. There is nothing quite so lovely as a well-placed piece, and sometimes these statues can even elevate the entire aesthetic of a garden to a whole new level. From whimsical fairies to elegant silhouettes, it truly is difficult to top the decorating potential of garden statuary. Note that this is true whether your garden is large or small! The right statuary will help bring it to life and bring you more pleasure than you thought possible.
When you make the decision to invest in garden statuary, make sure that you are receiving quality goods. An experienced and well-established seller will have the variety and knowledge needed to help you find the perfect piece for your garden while ensuring that every option is well-made. The professionals at A One Stop Garden Shop, for example, are proud to offer a wide array of garden statuary options! In fact, we're confident that we have something to suit every need. We can help whether you are looking for a large "statement" piece or would prefer something a little bit subtler.
In addition to offering a large variety of garden statuary pieces, the products you receive from A One Stop Garden Shop are guaranteed to have met our own personal approval! We take pride in the statuary solutions we provide to our clients, in other words, and accept nothing less than the very best in quality. And because we're a small, locally owned and operated business, you can feel good about your purchase. Create the garden you love while simultaneously investing in your local community!