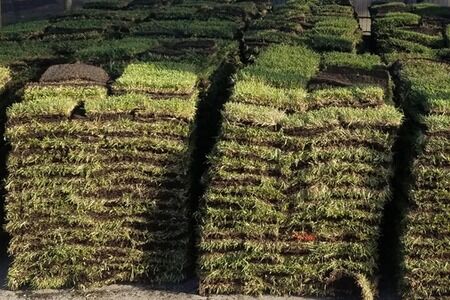 Are you looking for a beautiful lawn that looks as healthy as it is? Don't underestimate just how important quality sod is to both the appearance and longevity of your lawn or garden. If you invest in subpar or low-quality options, you might very well end up with a low-quality lawn that reflects that price savings. Patchy and visibly dimming sod is not a pretty sight, after all, nor is it conducive to the overall health of your land. This is a serious problem, especially if you are attempting to create something truly special – something of which you can be proud.
When you need the very best sod at the very best price, opt for a business that is well-established and understands not only how the industry works, but also how to meet the goals of our clients. Don't settle for anything less than a hardworking, honest, and local business that is ready and willing to go above and beyond to provide the services and products that their clients need. You deserve a professional and friendly experience that ends with you receiving the highest quality sod around. For that, there is no better option than St. Augustine Palmetto sod.
St. Augustine Palmetto was first discovered in 1988 by a Florida sod grower. It is sometimes known as a "semi dwarf" due to its relatively short internode and habit, however it should be noted that it is actually bigger than dwarf cultivars. That means that it's not overly long, but it's also not overly short. It is, to put it simply, a great option for the vast majority of landowners who are looking to give their property an overhaul without incurring high maintenance costs. Thanks to its length, it also appears more "plush" than other varieties of sod and is less prone to forming thatch. This is true even when the sod grows under full sun. Palmetto is known for its shade tolerance, Drought tolerance, Cold tolerance and is a good alternative to St. Augustine Floratam that can be affected by Sugarcane Mosaic Virus.

Another notable characteristic of St. Augustine Palmetto sod is its color! The sod yields a rich green blade, and it stays that way long after other types have faded. In fact, if there are no hard frosts, this particular variety of sod is able to remain green in temperatures below freezing level! In the Florida climate, that means that it will function essentially as an evergreen, remaining lush and appealing year-round.
A One Stop Garden Shop has the perfect sod to suit your needs! We are proud sellers of St. Augustine Palmetto sod and stand by our decision. We believe that this is a great low-maintenance sod for the beauty it imparts and would make a great addition to almost any land, be it yard or garden.
We also supply other varieties like,
Argentine Bahia Grass
St. Augustine Palmetto
St. Augustine Floratam
St. Augustine Seville
Empire Zoysia
Zoro Zoysia
Xeon Zoysia
Geo Zoysia
Celebration Bermuda
Tifway 419 Bermuda
Latitude 36 Bermudagrass
Additionally, rest assured that when you buy from us, you are investing in a locally-developed and family-owned business that works hard to support other local businesses. We're proud to offer you all manner of lawn and garden services and seek to offer a comprehensive array of products that will help all of our clients meet their goals.