Published: June 6, 2019, 7:55pm | Modified: July 6, 2019, 11:24pm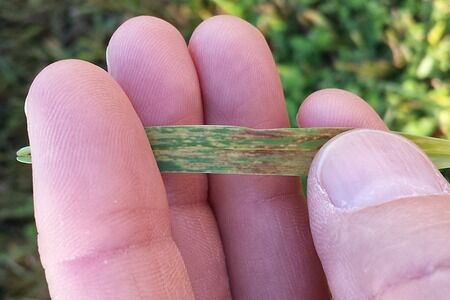 Lethal viral necrosis was first discovered as infecting the variety Floratam St Augustinegrass in Palm Beach County, Florida towards the end of 2014. Having originally been seen first in Pinellas County, it made its way to Palm Beach and can now be found in many counties throughout the state of Florida. Formerly Sugarcane Mosaic Virus, or SCMV, the "new" SCMV is actually caused by two viruses that will infect and kill Floratam St. Augustine grass. Once Floratam contracts the disease, it will die in three years, if not sooner. Other St. Augustine varieties including Palmetto, Seville, Citrablue, Provista, Captive, Sapphire and Bitterblue all appear to be able to harbor the virus without dying from it.
How Does It Spread?
This virus is believed to be transmitted most commonly by lawn mower wheels, grass trimmers and other types of lawn equipment that are exposed to grass clippings. The virus lives in the sap and is released when grass is freshly cut. It can survive longer when mowing lawns that are wet as the dampness prolongs hydration of the grass cuttings. When cutting are completely dried out the virus can no longer survive outside of the plant. While this is most often the way the virus is transmitted, it can also arrive on infected turfgrass, aphids and potentially other methods that have not been discovered or confirmed.
Your grass can contain the virus without showing symptoms. During summer months, grass grows faster and thicker, making it more difficult to see signs of lethal viral necrosis. When the wet season ends, temperatures decrease and grass growth slows you are more likely to notice symptoms related to the virus. The most noticeable symptoms will include yellowish, long splotchy spots on leaf blades and potentially yellowing or dead patches of turfgrass. The best way to determine if your lawn has been infected with lethal viral necrosis is by having it tested by the University of Florida Plant Diagnostic Center in Gainesville, Florida.
Can You Treat Floratam Grass For Lethal Viral Necrosis?
Currently, there is no treatment for lethal viral necrosis. Once infected, replacement of the turf will eventually be required. You can replace with other St. Augustine varieties, or look into additional types of turfgrass that may be more resistant to disease.
Palm Beach County's official website has recently posted an article about lethal viral necrosis with fact sheets from the University of Florida, frequently asked questions and additional information that can help you learn more about this quick spreading virus, which includes contact information for sending grass samples for testing and pricing. If you have questions about the different types of replacement turfgrass available, or you would like to discuss alternatives to St. Augustinegrass, please contact A One Stop Garden Shop at 561-784-7222 and we will be happy to assist you.