Published: January 11, 2019, 9:09am | Modified: June 19, 2019, 11:46am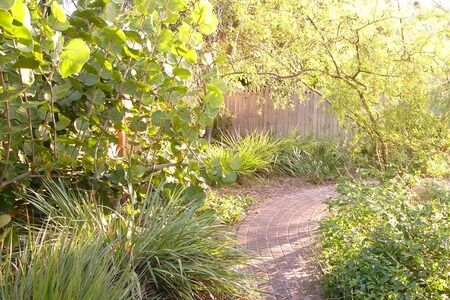 It is not uncommon, especially in a sun-drenched, hot-climate state like Florida for many homeowners to want to have a low-maintenance garden to tend throughout the year.
Plant Choices
Choosing hardy perennials (those that come back year after year) that can withstand summer heat and even a bit of drought means you have fewer weeds and not as much watering to do. Also, while shrubs like azaleas bloom profusely in the spring, they don't require much pruning. You can also use certain kinds of ornamental grasses the only need cutting back once a year. One of the more popular trends in growing a more drought-tolerant garden is growing succulents.
Native Plants
Florida's native plants are drought-tolerant and hearty. A native plant is one that has flourished in the weather and soil of an area. For example, some of the most used native plants, shrubs, and trees in Florida include the beautyberry shrub, muhly grass, coontie, and Southern magnolia. When it comes to planting a sustainable garden in Florida, it is important to remember the changing weather conditions in Florida. Drought and tropical storms can have a negating effect on any gardens in progress.
Delivery Decorative Rocks
A 1 Stop Garden Shop is the best place to go for a wide selection and expert advice. Call today if you have any questions about our range of supplies and services.