Published: December 7, 2018, 8:51am | Modified: June 19, 2019, 1:56pm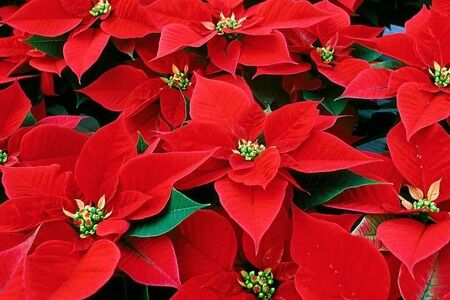 These classic and familiar plants make a stunning holiday gift. The broad, colorful petals are actually the plant's leaves and can be red, pink, white, magenta, orange, salmon, purple or variegated shades. Poinsettia sizes vary, and their bushy, mounding shape is ideal for centerpieces and bold arrangements.
Care
With proper care, these lovely plants can brighten your home for the entire holiday season. Begin by choosing healthy, full plants with dark green foliage. Be careful when transporting them as the branches break easily. They will prefer to be inside your home since they do best in cooler temperatures. Place them in bright areas of your home but not in direct sunlight. Poinsettias like to be kept moist – not too wet or too dry.
Watering
Check them daily and add water when the surface begins to dry. When you do add water, water them thoroughly until water seeps out of the drain at the bottom of the pot. If they are in a saucer discard the excess water. If you follow these few simple directions, you should be able to enjoy the beauty of your Poinsettias the entire holiday season. While these are sold plentifully during the holiday season, they still require minimal maintenance to be looking their best and last all season.
Garden Statuary South Fl
If you are in need of plants to decorate for the holiday season, A 1 Stop Garden Shop is here to help. Call today to check availability on your favorite plants.