Published: November 1, 2018, 9:37am | Modified: June 19, 2019, 1:57pm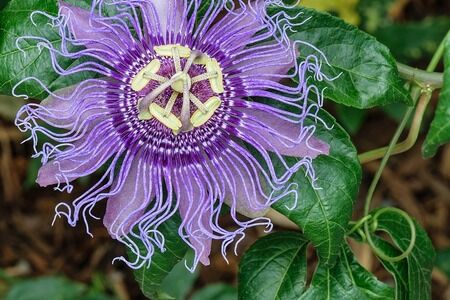 Sea Grape
Sea grape is a native plant found in coastal areas of Central and South Florida. Its bold, evergreen foliage and colorful fruit also make it a fun choice for home gardens. Sea grape can grow as a shrub or a vase-shaped tree, depending on where it's planted. It can also be trained as a hedge. The rounded, leathery leaves can grow up to eight inches in diameter. Sea grape grows in full sun or partial shade and is very drought tolerant once established. It also tolerates salt spray and salty soils, making it a Florida-Friendly choice for beachfront homes.
Passion Flower
This perennial flowering vine is native to Florida and can be grown easily. The gorgeous, three- to five-inch flowers come in shades of lavender or purple, with a wavy fringe over five petals. The middle of the bloom looks like a helipad, with a tiny yellow bean-like pollen sac suspended overhead. Each flower lasts about a day during the summer and early fall. The ovoid, green fruit is also edible.
Beach Sunflower
Beach sunflower is a butterfly-attracting Florida native that's perfect for hot, dry sites, including coastal areas. Many gardeners like to use it as a colorful and drought-resistant groundcover. Beach sunflower is a spreading perennial plant that also reseeds, creating a larger clump over time. It blooms almost year-round with two-inch, daisy- or sunflower-like flowers that have yellow petals and brown centers. Because of their year-round flowering, these plants can be especially good for brightening up the landscape during the warm and cool temperature extremes during the year.
Flowering Plants and Trees West Palm Beach
When it comes to expert service and knowledgeable staff, look no further than your local A One Stop Garden Shop.