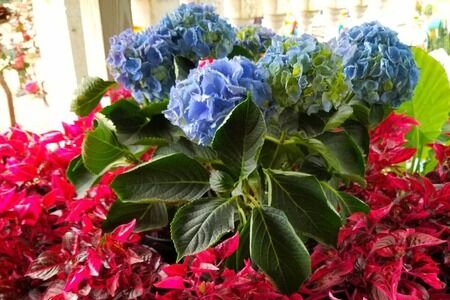 When you think about gardening, what kind of image comes to mind? Gardening often tends to be thought of as a pastime where you help plants grow and design a pleasant outdoor space. The focus here is often on flowers and lush grass, with everything else thought of less important. That means that there is less emphasis given to the kinds of wild creatures you can attract to your yard and the kind of enjoyment they can bring through the creation of your garden. You might be surprised at the kinds of interesting critters you can coax onto your property with the right lure! Hummingbirds and butterflies, for example, are some people's favorite part of spending time in their gardens. Let's take a look at how you can attract these colorful creatures to your garden!
Do Your Research
The best tip we can give you when it comes to attracting hummingbirds and butterflies to your gardens is to do your research. Take the time to really look at what kinds of plants attract these creatures and why. This, in turn, grants you the knowledge you need to create a haven for them in your very own backyard. If you are attempting to attract hummingbirds to your garden, for example, then you should stick to the kinds of flora that they love. This includes things like the red bottle-brush tree and the Geiger-tree as well as shrubs like the butterfly bush, firebush, and the Florida azalea.
Keep Color in Mind
The truth is that we often don't know exactly why butterflies and hummingbirds favor one plant over another. It is interesting to note, however, that color seems to play an important role in their selection process. Hummingbirds in particular are drawn to red plants, which means that you should keep the color in mind when designing your yard. Butterflies are also attracted to red flowers, but they seem to like blue and yellow plants as well.
Plan Your Garden
In addition to finding the right kind of plants to attract butterflies and hummingbirds to your garden, it is important to understand the kind of habitats within which these creatures thrive. Providing lots of big, open areas that are full of sunlight but still offer protection from wind are always a good option, particularly for butterflies. This allows them plenty of space to fly around and enjoy your flowers, while granting them a reprieve from strong winds that might otherwise knock them off course. Hummingbirds enjoy the same kind of environment, and you can always add specially-designed hummingbird feeders in the space to make your garden even more attractive to them.
Once you have your plants picked out and your garden designed, it's time to buy the supplies and get started! Whether you're looking for advice or simply quality products, A One Stop Garden Shop has what you need. Stop by and see us today!